Donate Blood
Sunday, May 19, 2019, 9:00 AM - 12:00 PM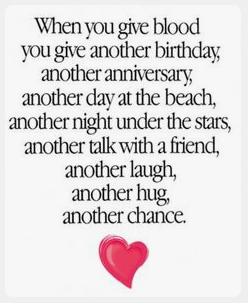 Some reasons why you should give blood:
It saves lives!
It is not more painful than losing a loved one that you may save by donating!
Because some day, I may need someone to do the same for me.
Blood donations are important because maintaining an adequate blood supply in our community secures blood transfusions for patients.
It gives donors a medical check at no cost.
Free cookies, juice and the satisfaction of helping others
The question is, why not give blood?
I can't discover a cure for cancer, but I can help keep someone alive while they are waiting for a cure.
Eligibility
Donors must be 17 years old (16 with signed parent permission slip),
meet height /weight eligibility requirements, be in good general health, and present a photo I.D. at registration. Not sure if you are eligible? Visit the eligibility page of our web site, or email specific questions to .
More questions? Contact: Courtney Howay( ).