Who are ZPCMen? It's simple. Are you a guy that attends ZPC? Then you are a member of ZPCMen. ZPCMen take the mission of our church seriously and look for ways to be disciples who make other disciples. Some of the ways we do this are by connecting with other ZPCMen, seeking to build healthier relationships with family and friends, deepening our intimacy with God, and discovering how we can live out our unique design to the fullest.
Contacts:
ZPCMen Contact: Claude Burgess [ ]
Home Groups Contact: Scott Shelton [ ]
Social Team: Kurt Strueh, Mike Crabb, Tim Millar
Outreach Team: Bud Ruby, Harry Milli
Service Team: Greg Rankin, Mark Argentine, Steve Ray
Teaching/Equipping Team: Stan Johnson
Victory! Every Men's Battle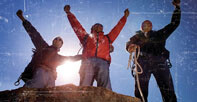 Men 18 and over are invited to join us for breakfast with Michael Cary, a ZPC-supported missionary with Living Truth Ministry. Michael will be joined by Doug Grasso and they will lead a training to help us understand how to help one another walk in victory over unwanted sexual behavior.
Registration and breakfast begin at 8:30 am
Program starts at 9 am
All men are welcome!
The event is free, but register using the link below so we will have a count for breakfast. Thanks!
Men's Thursday Morning Study
Thursdays | 6:15 – 7:30 am | Gathering Space
Beginners, doubters, mature, and perfect men are all welcome. Walk-ins are welcome too!
> Harry Milli [ ; 317.557.5781]
Men's Great Banquet
If you want to grow spiritually and learn more about your own journey through this life, The Great Banquet may be for you. During this 3-day experience we explore God's grace and the basics of Christian thinking in a worshipful setting of talks, discussion, prayer, singing, fellowship and fun. Learn about the next men's Banquet.
> Clay Barnes [317.872.8137x1098]