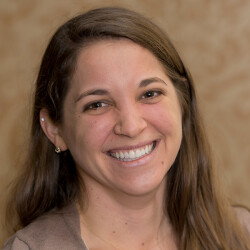 Editor's note: Jenna Bezold has served as our student ministries intern since July 2017. She will be leaving us at the end of February. She and her husband Jake are jetting off to Kenya, where Jake will do a stint for medical school. Please be praying for Jenna and Jake as they begin this new adventure.
A few months back, as Elia and I were planning for the upcoming year, we wanted to do a series on mental health. It is obvious that mental health is a "hot topic" these days, and not at all unfamiliar to middle and high school students. It doesn't take long to see that many students are struggling with anxiety, depression, or thoughts of suicide; or they know someone who has. In fact, in Indiana, suicide is the second leading cause of death for teens ages 15-25. Elia and I knew it was an important, prevalent matter, and we wanted to address it. We decided to do a 2 week series, the first week focusing on anxiety and depression, and the second week focusing on suicide. Knowing that we are not equipped or educated in these areas, we wanted to bring in someone who was. We got connected to Mandy Baldwin through a member here at ZPC. Mandy was a pastor at a local church for over 15 years, and spent 12 of those working with youth ministry. After realizing that counseling and teaching were what she loved most about her role in youth ministry, she went back to school to get her master's degree in counseling.
According to Mandy, it's important to address the issues of mental health and suicide because "it is something that influences everyone, and also the most difficult thing to talk about, especially for people of faith." She explains that in the faith community, struggling with depression and anxiety can look like a lack of trust in God, so people affected by anxiety and depression often struggle talking about it. But, as she continues, "we have a God who loves us, is for us, is fighting for us and desires good things for us. He is with us, not against us. That means he stands with us in our struggles and hurts; depressions and anxieties; griefs and wounds."
Mandy talked to our middle school students (7th and 8th graders) and our high school students this past Sunday. She talked about depression, suicide, and her own journey, all the while encouraging students that they are not alone. She had students repeat this mantra: "it's okay to not be okay, and you don't have to stay that way."
We'd love for you to watch one or both videos and hear her messages, and hopefully, have some engaging conversations with your family.
Please leave comments below or feel free to reach out directly to with any questions or comments.
Middle School Video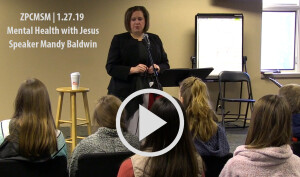 High School Video