About this post: We want to stay connected! This blog post is part of a series of daily devotionals for this season. Read them, share them, and pray that they bring God's peace and love to our communities. To sign up to receive text notification of these posts, text ZPCDevo to 317.768.0600. We welcome your comments and questions each day.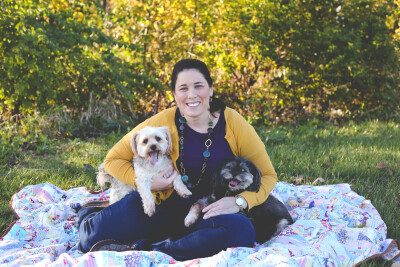 About the author: Angela Bourff has been attending ZPC since 2005 and has been a member since 2011. She has served as a Deacon and as the Wedding Coordinator at ZPC. She ushers and greets at the main doors once a month. She is a 2nd grade teacher in Zionsville and lives in Whitestown with her 2 dogs. She is the proud aunt to a nephew and 3 nieces.
Today's Scripture: Psalm 23
I know that Psalm 23 has already been used, and that it is a popular Psalm, maybe the most common and most popular. However, it's also the Psalm I keep turning to during this "time of quarantine" we are living in. Many years ago I traveled to Scotland. Just before leaving, I was given the book A Shepherd Looks at Psalm 23: An Inspiring and Insightful Guide to One of the Best-Loved Bible Passages by Phillip Keller. Many times during my trip I saw sheep wandering about in the fields. Reading this short book, I Iearned so much about the importance of a shepherd to his sheep and about the true understanding of "the grass is always greener" and its meaning. What a perfect and ideal place to read of the greatest Shepherd of all and how his peace brings us comfort if only we will rely on him.
Only a few months ago so many, myself included, were running around in our busy daily lives. We had over-filled calendars, were rushing from place to place, having to choose between events or activities, and needing more hours in our days. We wanted to be on the other side of the grass.
And then this pandemic hit. Many of us have found ourselves on the other side. Life has slowed down. Our calendars have cleared. Activities have been cancelled. While so many are struggling, and I don't discredit that for one moment, I'm choosing to embrace that the Shepherd has his hand in the center of this. We need this! As it says in the book, "I am assured all will turn out well for my best because he is with me in the valley and things are under his control." I know times are scary. People are unsure and the future is unknown. But I also know that I'm not alone. I have the Shepherd to walk with me no matter which side of the grass I'm walking on.
Activity:
Take some time over the next few days to think about all the things that are on the "other side of your grass." Then think about what was on the other side a few months ago. Where was God then? Where is he now? Has he become more of a priority? How can you make him more of a priority and make sure he stays more so when things get busy again?
Prayer:
Offer this version of Psalm 23 from The Message as a prayer today:
God, my shepherd!
I don't need a thing.
You have bedded me down in lush meadows,
you find me quiet pools to drink from.
True to your word,
you let me catch my breath
and send me in the right direction.
Even when the way goes through
Death Valley,
I'm not afraid
when you walk at my side.
Your trusty shepherd's crook
makes me feel secure.
You serve me a six-course dinner
right in front of my enemies.
You revive my drooping head;
my cup brims with blessing.
Your beauty and love chase after me
every day of my life.
I'm back home in the house of God
for the rest of my life.
Amen