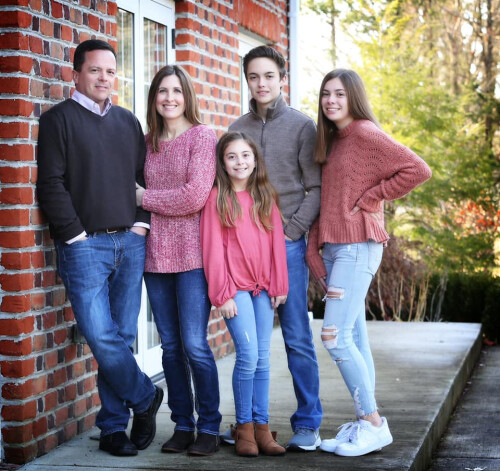 About the Author: Darin Stalbaum is an elder that is active in discipleship, small group, and men's ministries at ZPC. He and his wife Gretchen lead a Monday evening Home Group, and they are the proud parents of two high schoolers, Luke and Kyla, and one middle schooler, Teagan. Yellow labs, Tucker and Koda, round out their home of 7 in Zionsville.
Outside of church and home, Darin is a sales executive for an Indy-based company that serves utility and telecommunications companies nation-wide. Darin enjoys sports, just about any kind of friendly competition, and outdoor activities, namely hiking and kayaking. The home screen on Darin's phone proudly displays a picture of him and Luke atop a 14K-foot mountain in Colorado's collegiate peaks last Labor Day weekend. Darin aspires to someday be a golfer and fisherman, rather than someone who occasionally goes golfing and fishing.
Today's Scripture: Psalm 149
During Jerry's May 10 sermon on Psalm 147, he highlighted that "the Lord delights in those who fear him" from verse 11. Jerry emphasized that God delights in me. This struck me as I took in the COVID-19 friendly service video on my couch at home. I remember thinking two things; first, that is good to hear, and second, I am not sure I believe that is true. Theologically, I believe that he delights in me, but why was my heart struck with disbelief?
The next day my mind was occupied with a busy, full calendar day working from home. Business issues tied me up into the evening, later than I planned, so I was late to our Home Group meeting via Zoom video conference. Fortunately, the commute from my makeshift home office in the basement to my wife's side and laptop upstairs is short, so I caught our Home Group's discussion on Psalm 147 and the question about God delighting in us. Listening to others express similar "but we have to earn our keep and we are imperfect" reactions took my work distracted mind right back to the challenge of really believing God delights in me.
The opportunity to reflect on this again, in honest and trusted community with other believers I know, trust, and love was a treasure. Others in our group spoke to the depth of God's love, grace, and goodness. I was reminded that we are not the point. The point is not me and what I deserve or do not deserve. The point is the Lord. To doubt his love and ability to delight in us minimizes him. The goodness and depth of his grace is immense, and anything short of recognizing that minimizes the heart of who he is. He is God, and he is the Lord, not me. His Word tells us of his love, mercy, and gracious actions for us, for me. If he provides all of that for me, and he loves me, how could I doubt his ability to delight in me?
If I am his, he delights in me. Period.
I mess up. I let people down. I fail to do all that I can and should. I am imperfect. I doubt.
Yet, he delights in me. Wow.
Psalm 149 is titled a victory psalm. If recognizing the depths of his grace for me anew is not cause for victory, I do not know what is! Read verses 1-6 with this kind of victorious celebration in mind. Celebrate his grace and set aside your shortcomings and challenges, if only for a moment. It is not about you. It is about him, and he loves you. That is enough, and that is bigger than any "yeah, but…" you have.
Wait!!! Read verse 4 again, "the Lord takes delight in his people!"There it is again. If I am his, he delights in me. Wow, again.
Verse 6 also interestingly, references having a double-edged sword in our hands and how it leads to victory. My study Bible cross references that verse to Hebrews 4:12 which speaks to the living and active Word of God which is sharper than any double-edged sword, presumably even the victorious double-edged sword of Psalm 149. It penetrates the "thoughts and attitude of the heart," including doubt and disbelief. Navigating through doubt and disbelief with the living Word of God, even with the support of a faith community, is not easy but I pray that we do exactly that, in his truth and grace. And, I pray that we find a new song and the praise, rejoicing, dancing, and joy referenced in Psalm 149, even during these unique and uncertain times.
Prayer:
God,
Penetrate my heart and allow me to hear your voice, so I may know you and be yours. Call me to you, so that I can celebrate the assurance that you truly delight in me as one of your own.
Amen