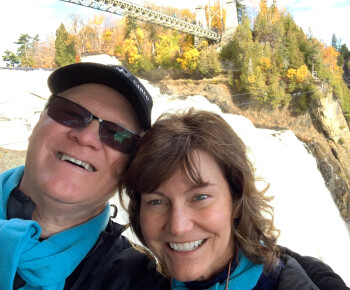 About this post: This blog post is part of a series of daily devotionals where we are exploring Jesus' life through the book of John. To sign up to receive text notification of these posts, text zpcdevo to 39970. We welcome your comments and questions each day.
About the author: Craig Olney and his wife Christy are active ZPC members. They serve as home group leaders, on Great Banquet and Kairos Prison Ministries teams, are Greeters, First Impressions team members and Christy serves on the Missions Commission Finance team. They recently moved from Zionsville to the Village of West Clay and are reaching out and getting to know their neighbors.
Today's devotional focuses on the encounter Jesus had with the Samaritan woman at the well. Jesus is on his way to Galilee from Judea because he was facing opposition from the Jewish leaders. He has a large following, primarily due to the public miracles people have seen him perform, but he is becoming a liability to the ruling Jewish leadership. Therefore, he decides to take his ministry back to the rural area of Galilee.
Jesus chooses the shortest route, and it takes him through Samaria, a place avoided by Jews because of the people who live there. He stops at a well for a drink where he encounters a woman drawing water. He speaks to her, which is not culturally appropriate, and ends up telling her he is the Messiah. She believes and runs back to her village and tells the whole town about this encounter. The Samaritans in the village come to the well and ask Jesus to stay with them. He stays for 2 days and many believe in him.
Funny, isn't it? The Jews, who were looking for the Messiah, did not recognize him but the Samaritans, who had a different conception of the Messiah, were able to recognize and accept that Jesus is who he said he was.
This is an example of the inclusiveness of the Christian faith. In our world today, Christians are often viewed as exclusive (because of Jesus' words in John 14:6: I am the way, the truth, and the life. No one comes to the Father except through me.). However, the opposite is actually true, Jesus reaches out to all people regardless of what they believe. Jesus is "the way" and that "way" is available for all who seek it.
This Advent, as we look at the life of Jesus as told by John. Remember it's all about Jesus and how him coming into the world changed everything!
Prayer:
Merciful God,
Thank you so much for sending Jesus into the world. Thank you for loving me enough to provide a way to be your child. Thank you for forgiving my sins. Help me see all people through your eyes. Help me to reach out, tell my story, and show others the way.
In Christ's name I pray, Amen.
Activity:
Sit quietly today for 5 min and reflect on how much you are loved by God. Just soak it in. Then think of someone you don't like or have a problem with and ask God to show you a way to encounter them with the "good news."