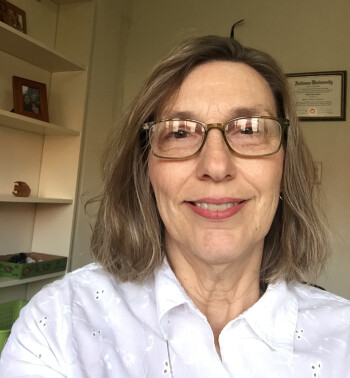 Kathi Small is a ZPC supported missionary currently serving in Guatemala.
About the author: I grew up in Indianapolis. Since 1992, I have lived mostly in Central (Guatemala) and South America (Venezuela and Peru). During late 2017, I moved from Peru to Guatemala City and have been teaching at the Central American Theological Seminary. It is a great privilege!
What I have been doing at home these past month: preparing and teaching classes online, trying out new recipes I find on Pinterest, sewing and probably watching too much Netflix.
Today's Scripture: Psalm 107
2020 is my Year of Gratitude. What that means is I recognize my need to grow in this godly characteristic and my focus is scripture and books related to gratitude.
Psalm 107 tells us to "Give thanks to the Lord, for He is good! His faithful love endures forever." (v.1) In this Psalm, the psalmist provides a narrative of God's actions and interventions in the history and life of the Israelites. He freed them from the power of their adversaries, gave them direction when they were lost, and even in their sinful rebellion, he remained faithful in providing for their needs. The early church in the New Testament had the Psalms to help them understand their God who has power to act in his children's lives, give them direction and provide for their needs. All throughout scripture we are reminded to give thanks to God.
What about you? Are you quick to express your thankfulness to God for his visible action in your life? How often do you take time to focus on God's character manifested in your life? You see, when we are reminded of God's favor, it makes it a lot easier to develop a lifestyle of gratitude. So, what are you thankful for? Be reminded and express to him your thankfulness.
I am keeping a journal of this Year of Gratitude. One of my first entries was not what God had given me or done for me. Rather I used the word GRATITUDE and wrote a characteristic of God that began with each letter in the word. The following characteristics of God were my prayer focus on January 1.
G - Good God
R - Righteous
A - Able
T - Truth
I - Independent being (meaning God is complete in Himself)
T - True to His word
U - Understanding
D - Divine
E - Everlasting
Why don't you give it a try by focusing on who God is, and/or, what he has done in your favor. Author Chuck Colson has said, "Every time I hear the word grace, I am reminded that I must live a life, everyday, which reflects my gratitude to God."
Prayer:
Father, please remind me of your grace evident in my life and grow in me daily expressions of gratitude to you.