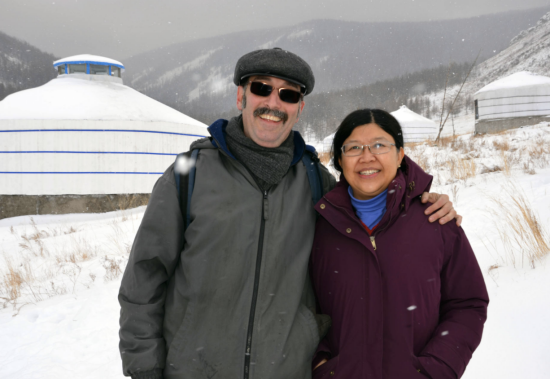 About the author: Bill and Kwai Lin Stephens have served with OMF International in Mongolia since 1994. They have labored to evangelize, make disciples and work with Mongolian brothers and sisters to plant churches through English teaching, Bible college teaching, relief and development work, and through organizational consulting including nascent Mongolian mission agencies. Bill is pursuing a doctorate through Biola University, researching on Mongolian Christian nomadic herders. Kwai Lin, with Bill, leads OMF's work to reach the Tibetan Buddhist world in Asia.
I was walking home to our apartment in Ulaanbaatar, Mongolia. A man walked out of a convenience store. Two men outside the store saw him and shoved him up against the window and started to punch him. I could see the fear in the eyes of the shopper up against the glass.
I was afraid to say or do anything. Mongolians are friendly and hospitable, but when they become angry, think Genghis Khan. Violence scares me. When I was in urban ministry living in a dangerous neighborhood in San Francisco in 1990, I was violently assaulted and robbed with a knife to my neck by two men with a skin color different than mine.
So in front of the shop, it felt like I was staring at myself as I quickly walked toward the scuffle yelling in Mongolian "Khooye" or "Hey!" The two men turned around startled, taking their hands off their victim. "Russians are good. Ch*nks are bad" one of them said defensively to me. Ah, they think I am Russian, and Russian men have a reputation for being fierce. For this is the "Jukov District," former home of WWII hero Soviet General Georgy Zhukov, and many Russians live here. The Chinese man saw an opening and ran. Then the two men quickly walked away.
At the core of Mongolian identity is not being Chinese. There is a long and complicated history of conflict between the two peoples. Latent grudges between peoples are not hard to find. Scottish people abhor being mistaken for English. Chinese and Koreans don't like Japanese. Japanese are proud of their racial purity and despise Japanese marrying others. Canadians are offended if you call them American. My own forefathers were in the Revolutionary War and the War of 1812, taking a different position from the people of Canada.
See Luke 10:25-37. Jesus' telling of the "Good Samaritan" story shakes the sensibilities. The lawyer could not get himself to reply "Samaritan" but instead answered, "The one who showed him mercy" (v. 37, ESV). Being far removed historically and culturally removed from the situation, it is hard for us to grasp why Jews despised Samaritans.
Samaritans were seen as being related to people who took away Israel's land, who threatened Israel's God given heritage. Remember, Israel was occupied by Rome, the globalists of their day. Israelites had not forgotten that back in their history, at the beginning of their exile, their land was being overrun with foreigners: "And the king of Assyria brought people from Babylon, Cuthah, Avva, Hamath, and Sepharvaim, and placed them in the cities of Samaria instead of the people of Israel" (2 Kings 17:24). The Samaritans came from these people.
Today, social and inter-ethnic conflict is on the rise in America. People cannot even agree on how to view America's past, and have different visions for America's future. In the midst of conflict, may we remember Jesus' words to the Samaritan woman: "But the hour is coming, and is now here, then the true worshippers will worship the Father in spirit and truth, for the Father is seeking such people to worship him. God is spirit, and those who worship him must worship in spirit and truth" (John 4:23-24). Christians may or may not like the direction America is going, but God still reigns. He calls for us to love others different from us, and may we worship him truly.
Prayer:
Lord God,
Help me to worship you in spirit and in truth. Forgive me for when I despise people different from me, people created in your image. Help me to love others, even people different from me. We do pray for peace in our nation, and in nations around the world, even as that peace will not be perfectly manifest until your son, the Prince of Peace returns.
In Jesus' Name,
Amen.