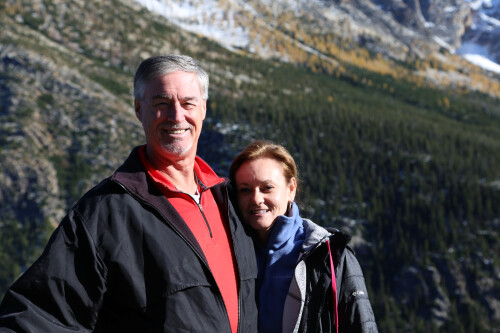 About the authors: Wayne and Deanna Schmidt have been members at ZPC for over twenty years. Wayne is currently an active Deacon and also moderates ZPC's Board of Deacons. Deanna teaches second grade at Eagle Elementary in Zionsville (or via Zoom lately!). They have two grown children and enjoying walking on the Zionsville Rail Trail.
Deanna has been reading a book entitled The Book of Amazing Stories, by Robert Petterson. It is a devotional collection of short stories about seeing God's hand in unlikely places. A week ago as we were on our walk she told me about the latest story she read, a story about the Boll Weevil. The story describes a large marble statue of a woman located in Alabama. Her arms are outstretched in a posture of worship. The odd thing is that she is raising up a giant black boll weevil, an insect and, mind you, not one that would draw oohs and ahhs like a ladybug or honeybee.
It seems that back in the 1800s when the cotton crop was the cornerstone of economic prosperity in the south, the black boll weevil invaded from Mexico. The invasion was called the black flood and it devastated more that 40% of Alabama's cotton crop. This left farmers no option but to look for other means to survive, so they turned to planting peanuts. Today, this area is now known as the peanut capital of the world.
The devotional was tied to 1 PETER 1:6 - - So be truly glad. There is wonderful joy ahead, even though you must endure many trials for a little while.
As we were discussing the story we reflected on how many boll weevil moments we'd had in our lives. Like our struggles early on to have children when it seemed like all our friends were starting their families. Then God blessed us with two wonderful sons. Or how two days before our first son Austin was born I learned my job was being impacted due to the loss of a significant contract at my company. Not great timing but God soon after opened a new career opportunity for me in southern Pennsylvania in the field of robotic automation.
Finally, how a major downturn in the economy in 1999 led to seeking new employment that led us to Zionsville and ZPC. We still recall with amazement the day after we decided to make the move to Indiana, we were standing out in our neighborhood talking with our friends. We hadn't broke the news of our move to them yet. Suddenly, someone drove up and commented on how much they loved our neighborhood and inquired if we knew if there were any properties for sale. Coincidence?
It was easy to look back and see all the times we relied on God and his timing during so many boll weevil moments.
The inscription on the bottom of the statue in Alabama where the woman is giving thanks to God reads, "In profound appreciation of the Boll Weevil and what it has done as the Herald of Prosperity."
So as we navigate more and new boll weevil moments such as the coronavirus pandemic and heightened struggles of racial injustice, we take comfort in knowing we have a God that can bless us through even our greatest trials. It will be interesting to see what God had in store for humanity 20, 50 or even 100 years after 2020.
ACTIVITY:
Take time to reflect on your own Boll Weevil moments and see how God was there in the midst of them all.
PRAYER:
Lord Jesus,
No matter what challenges or trials we face, may we do so in hope and the assurance that You have us covered with your Wisdom and Love.
Amen.