Why read the Bible and why read the gospels?
Before we answer the two part question above, I'd like to tell you why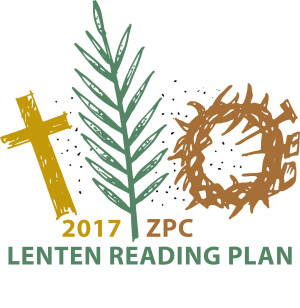 we're asking the question. Lent is a time of reflection over Jesus' life, death, and resurrection leading to Easter Sunday. We're asking members of the ZPC family to join us in reading the Lenten Reading Plan which covers reading all 4 gospels in 40 days, plus 6 Sundays as catch-up days. It's reading 2 or 3 chapters a day. You can find the Lenten Reading Plan on the front page of zpc.org or in print at the welcome center. So if we're going to ask you read the Bible, and specifically all 4 gospels, the question is why?
The Bible is God revealing himself to his people. If we are to know God more deeply and to follow him, we need to know what God says. We find that in the Bible. It is God's Word to us, written by human hands and inspired by God's Spirit.
In Hebrews 1 we read, "Long ago God spoke to our ancestors in many and various ways by the prophets, but in these last days he has spoken to us by a Son, whom he appointed heir of all things, through whom he also created the worlds. He is the reflection of God's glory and the exact imprint of God's very being, and he sustains all things by his powerful word."
God spoke. God spoke the world into being in Genesis 1. God spoke through prophets with names like Moses, Isaiah, and Jeremiah to speak to God's people. God spoke through life stories of real people – like Abraham and Sarah, Joseph and his brothers, Samson, Ruth, and David and Nathan. You might want to look up Nathan and David's intense conversation in 2 Samuel 12.
Then God spoke through Jesus. Hebrews says that Jesus is God's Son – the exact imprint of God's being – who walked and talked as a human with other women and men in a real place 2,000 years ago. So we read the Bible – and the Gospels – because God speaks to us today. He speaks through Jesus.
The Gospels are historical narratives that tell Jesus' story – his birth, his miracles, his teaching, his friends, his suffering, his death, and his resurrection. But they are more than just history. They are proclamation of truth for a reason. We are people in need of rescue, and God has sent his only Son to rescue us when we can't save ourselves. Four authors tell the same story from four personal viewpoints, inspired by the Holy Spirit. Mark was written first, and is a little shorter in length. Matthew and Luke borrow much from Mark and expand on it with their own viewpoints. Matthew speaks to Jews in that time – telling them why Jesus is the Messiah for them. Luke speaks to a Gentile (non-Jewish) audience and is very orderly in his style. John includes much of Jesus' teaching in longer chunks, and opens chapter one with a cosmic viewpoint of who Jesus is. Go ahead and skip ahead to read John 1!
Being a Christian since about age 8 and going through seminary and working in a church, I can safely say I've read the gospels many, many times. I've read certain verses hundreds if not thousands of times. Yet…God uses stories Jesus told, or stories about Jesus, to be fresh and meaningful for me even now!
In the summer of 2016, I had the chance to travel to Israel and to Jacob's Well – the site of the story of "the woman at the well" in John 4. Being at that location and then re-reading the story several times since last summer has made that story come alive for me. It feels fresh and challenges me to tell others about Jesus – as the woman did to the people in her town. It challenges me to study Jesus for myself, so that I can know him better, as the people of Sychar did when they came out to meet Jesus and spend time with him.
During Lent, I want to meet Jesus again and spend time with him again. He intrigues me. His message is compelling and his stories grab my interest. His life of sacrifice and humble service, even as the Son of God, draws me in and makes me desire to know him and follow him.
So join me and many other ZPCers in reading all 4 gospels between March 1 and April 16. If you want to interact with the story, keep looking for these blogs and short postings on the Zionsville Presbyterian Church Facebook page. Or join me in the ZPC chapel for a face-to-face "book club" for up to 30 minutes of discussion on what you are learning in the gospels. I'll be there Thursdays at 12 noon and Sundays at 8 am during Lent.
God reveals himself in the Bible and Jesus is revealed in the gospels. So open up the Bible – and the gospels - to see Jesus!
What are some things that stood out to you in this week's readings?