ZPC has supported Iglesía Nueva Creación, a Hispanic church that meets at John Knox Presbyterian Church in Speedway, since its inception in 2008. In addition to our church's annual monetary support, several ZPC members have gotten involved over the years. Ron Fisher serves on ZPC's Mission Commission and as the treasurer on the board for Nueva Creación. I spoke recently with Ron about the church, his involvement, and how ZPCers can become more involved in this important ministry.
According to Latin Post, Indianapolis has been experiencing a Latino population boom (Thompson, 2015). Between 2000 and 2013, the Latino population in Indianapolis increased by 195%. Currently, according to the US Census, 9.4% of Indianapolis's population is Latino. Speedway is in keeping with its surrounding city with about 9% of its population being Latino.
Nueva Creación came about in 2008 through a partnership between John Knox, Irvington Presbyterian Church, ZPC, and the Whitewater Valley Presbytery. Ron says the church is an important addition to the Speedway community. "Because of the growth of the Hispanic immigrant community, there are a lot of opportunities for Nueva Creación and the location of John Knox is perfect meeting place for a Hispanic congregation. There is a strong catholic church in this area, but there was not a protestant presence until the formation of Nueva Creación."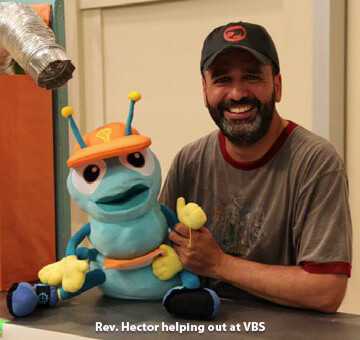 In January 2015, Nueva Creacion hired a part-time pastor, Rev. Héctor Hernández Marcial, M.Div., MAMFT. Rev. Héctor has been a great addition to the church, according to Ron. "Hector goes into the homes of those the church serves. He spends personal time during the week with families, which has helped the church grow."
Providing services and planning events for the community are other ways the church has grown. Some examples of ways the church has reached out to the community are through a couples workshop they hosted last August with 40 people participating and an event where they facilitated a community conversation with a Spanish speaking police officer who serves as a liaison with the Hispanic community.
The church also provides events and services for the children in the community. Ron pointed out how important this connection is. "The Hispanic culture is very family oriented so when children get involved, parents get involved." These interactions with children provide several opportunities for ZPCers to jump into this ministry. The Nueva Creación congregation meets on Sunday afternoons at 1:30. Volunteers are needed to assist with the children's ministry during this time. "These volunteers are vital to the growth of this church, because they allow all parents to stay and participate in the service, which is important to a small church."
Another opportunity for ZPC involvement takes place on Thursday evenings when the church hosts art and music labs. Through the Art Lab, Rev. Héctor and other artists help community children explore graphic design and art while exploring their faith in God. The Music Lab is also planned for this fall after an individual donated five guitars. Volunteers are needed to assist in both areas.
Please contact Ron Fisher for more information on how you can get involved with the wonderful things going on at Nueva Creación!