Religion says do. Jesus says done.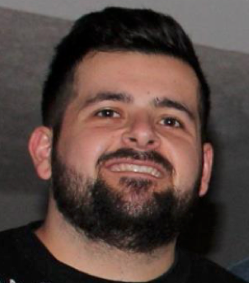 Editor's note
About the author: My name is Brendon Saget, I have lived in the Zionsville/Indianapolis area since 2010. All of my family lives in California where I was born and spent most of my childhood. I am the youngest of 4 kids, 3 boys and 1 girl. My oldest sister is 36 with 5 children, Eathan, William, Joseph, Samantha, and Alexander. Tylar is 28 with 2 kids, Liam and Maddox. Kyle is 26 with no kids. My parents are in Sacramento, California where my dad is a police chaplain and my mom is a bookkeeper. I am the Student Ministries Intern here at ZPC and am loving it. I love this opportunity that God has blessed me with. I graduated from Traders Point Christian Academy in 2013 and then became the Assistant Athletic Director and coached many teams within the academy for the last 5 years. My main loves are basketball and baseball and I have coached or assisted over 30 teams in the last 5 years whether that be basketball, baseball, volleyball, and football.
About this post: This blog post is part of a series of daily devotionals for Holy Week. To sign up to receive text notification of these posts, text zpc devo to 39970. We welcome your comments and questions each day.
JOHN 20:1-18
One cannot miss the fact that this scripture starts out with a peculiar scene.
It was now about noon, and darkness came over the whole land until three in the afternoon.
This sets the tone of what is about to happen. The Savior of the World, the Messiah, the Son of God, the Son of Man, is about to give his life for crimes he did not commit and the world seems to stop for this. Those who witnessed this surely had to be asking so many questions.
Jesus called out with a loud voice, "Father, into your hands I commit my spirit." When he had said this, he breathed his last.
Can you hear Jesus screaming that out? What comes to mind when you think of this? Do you go to all the things that you have done wrong in this life, or do you go to the redeeming power that Jesus gave us through his sacrifice? In Christ today, we are not defined by what we do, we are defined by what has already been done. Religion says "do," Jesus says, "done." Identity seems to be a constant discussion in this world. What are you identified by?
The Centurion that was looking upon this proclaims,
Surely this was a righteous man.
There was nothing that was going to stop Jesus from sacrificing himself on the cross, but this centurion and others who watched this happen, in the way that it did, were frightened by the power that was shown through this. I believe we are sometimes frightened by the power that is God, but time and time again, we see God is merciful.
Romans 5:8 But God demonstrates his own love for us in this: While we were still sinners, Christ died for us.
The Gospel message does not say, clean up your life and then come to Jesus clean, it says, come to Jesus and he has already made you clean. There is no law holding us down, there is no sin that is greater than the power of love, there is no one on this earth or in our heads that can overcome God. Not even the Jews who wanted Jesus crucified could stand a chance against the true God and his almighty power.
Some thought that all was lost when Christ breathed his last breath. Some thought that it was a "good run" and that they had been changed through it. Even the disciples went back to what they knew how to do, fish. How many times have we been so frightened that maybe we are not where God wants us to be but then come out on the other side with this relief that God does know what he is doing. Be mindful today that God has shown through the vastness of the Bible and history in general that he is moving; he can make beautiful things out of ash. He is bigger than anything we are going through. He is big enough to take you as you are. If you do not feel him moving, dive deeper into what is causing that feeling of separation and attack the barrier that is keeping your mind away from where God is.
Prayer
Lord, thank you for the life that you have given me. Please reveal yourself in this season in a mighty way. I want to see and feel you. Renew my mind, Lord, help me understand more of what you want from me. Steal the show, speak through me, work through me in everything that I do. Help me to keep my mind focused on you and the power that you have given me through your sacrifice on the cross. Thank you for loving me fearlessly and breaking the chains for us. I know I cannot do life without you and you make everything good and clean through your love.