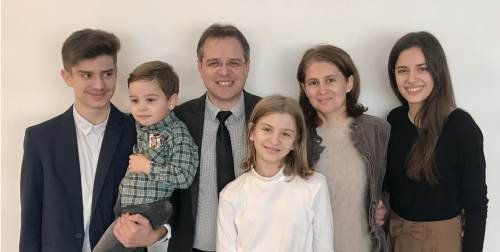 About the author: Emmy Cîra is a pastor Geneza Church in Cluj, Romania. He is married to Nadia and they have 4 children. ZPC has provided support to pastors like Emmy through an annual conference for Romanian Pastors.
One of the functions of the Church is to share the good news with the people who need Christ. In Matthew 4:19, Jesus called the disciples to follow Him saying, "Come after me, and I will make you fishers for men." This is an image that describes our calling, too. We are to catch people in the net of the Gospel.
I am not a fisherman. Nobody initiated me into this sport. So, I can live without fishing. I do not understand the passion of the people who wake up very early in the morning to go fishing, probably because I love to sleep till 7 or 8 am. And I can survive eating a lot of other goods. I think nobody will be affected because of my lack of interest in fishing! (Hopefully)
When we speak about sports or hobbies, we agree that many people can have different passions and inclinations. But when we are speaking about following Christ, we cannot decide our mission. Jesus gave the Church only one mandate: to make disciples (Matthew 28:18-20). Our passion should be to see people coming to Christ. The "fish" is not for us – but for our Lord. Jesus is our Model; the Bible is our Manual; and the Holy Spirit is our Power and Guide. We may need training for fishing more effectively, but our calling is to catch men in the net of the Kingdom.
Someone said: "Too many Christians are no longer fishers of men but keepers of the aquarium." This is a sad affirmation, but I wonder how much does it reflect the reality in our world? Can the Church forget the mandate Jesus gave? Can the Christians be so concerned with following their traditions or agenda and forget Jesus' agenda? Can anyone redefine what does it mean to be a follower of Jesus (Christian)?
Of course, the answer to all these questions is no! But sometimes we discover that the Christians are more concerned about preserving the church buildings or the traditions than touching the lives of other people.
Let us be reminded of what Jesus said in the Sermon on the Mount, in Matthew 5:13-16: "You are the salt of the earth, but if the salt has lost its flavor, with what will it be salted? It is then good for nothing, but to be cast out and trodden under the feet of men. You are the light of the world. A city located on a hill can't be hidden. Neither do you light a lamp, and put it under a measuring basket, but on a stand; and it shines to all who are in the house. Even so, let your light shine before men; that they may see your good works, and glorify your Father who is in heaven."
Jesus entrusted his mission to his disciples. That includes you and me.
Activity:
How can you be a witness to the Lord during these days? How can you share the good news about Jesus Christ? Plan a meal in your house or courtyard that will include your neighbors. Or send a meal to one of your neighbors and attach an encouraging note (or Bible verse). Pray that they will see the love of Christ in your words and deeds.
Prayer:
Dear Father,
Thank you for your salvation. Thank you for Jesus. Please help us to remember that we are saved to serve you. Please help me to manifest your light into my world. Please use my words and deeds to show your love! I am not a very good fisher, but I know what you want and you can use me for the work of your Kingdom! In Jesus' Name!
Amen.