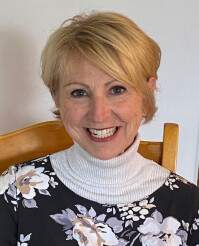 Betsy Howden has been a member of ZPC for 29 years. After 21 years on staff, she retired from ZPC two years ago and (until recently) has loved having the freedom to travel with her husband, Michal, to volunteer at ZPC and Outreach, Inc., and to spend memory-making time with her family. Betsy and Michal's son Topher and his family live nearby in Zionsville as does Betsy's dad and their daughter Allie and her family live far, far away in California.
Psalm 16 from The Message
1-2 Keep me safe, O God,
I've run for dear life to you.
I say to God, "Be my Lord!"
Without you, nothing makes sense.
3 And these God-chosen lives all around—
what splendid friends they make!
4 Don't just go shopping for a god.
Gods are not for sale.
I swear I'll never treat god-names
like brand-names.
5-6 My choice is you, God, first and only.
And now I find I'm your choice!
You set me up with a house and yard.
And then you made me your heir!
7-8 The wise counsel God gives when I'm awake
is confirmed by my sleeping heart.
Day and night I'll stick with God;
I've got a good thing going and I'm not letting go.
9-10 I'm happy from the inside out,
and from the outside in, I'm firmly formed.
You canceled my ticket to hell—
that's not my destination!
11 Now you've got my feet on the life path,
all radiant from the shining of your face.
Ever since you took my hand,
I'm on the right way.
It seems recently that so much is in turmoil, both globally and even in our own backyards. We can't hide from hearing about the latest disease, disaster, devastation, or disappointment. How do we handle the changes that all this has brought about?
How has your life changed in the last few months? Michal and I are part of the "older generation" who are deemed to be at greater risk of getting COVID so we have sheltered in place since early March. I haven't been able to see my 94-year old dad; we visit our son, daughter-in-law, and grandsons across a fence so that the 3-year old can't run up and hug us; and I had to cancel a trip to California for my granddaughter's first birthday. I know your lives have changed as well and, for some of you, your lives have changed in much more serious, drastic, or permanent ways.
Are you looking for good news? Read Psalm 16. In the midst of things that I am powerless over, I can run to the one who has power and hears our cries for help. One constant in my life seems to be that in times of hardship, keeping my eyes on God, his Word, and his provision has always given me hope and seen me through. As Eugene Peterson paraphrases, without God nothing makes sense. Our ultimate security is in God and his faithfulness, trustworthiness, his grace and love. "And these God-chosen lives all around—what splendid friends they make!" These are friends who are there to help and support you. These are friends who can encourage you and tell you a really corny joke to make you laugh. These are friends who will listen and, in one way or another, share God's love with you. God's Word gives us the counsel we need in any situation, words that give us hope, and set us on the right path.
In the midst of all the things that have changed, God is unchanging. His blessings still abound although sometimes we need to consciously look for them. If in the course of today you come across situations that dishearten you, I encourage you to balance that by thinking of a blessing you've received. If you have a hard time thinking of one today, always remember that God is with you, God is for you, and that God loves you unconditionally. I love the way this psalm ends, "Ever since you took my hand, I'm on the right way." My heart aches because I'm missing precious times with my family and that's my reality right now. And my reality is also that I've had time to take reallllllly long walks; time to work on projects that my mom never had a chance to finish; time to learn Spanish (well, maybe un poco Spanish). Whatever has changed for you, whatever your new reality is, I hope that most of all, along with me, you have time to realize that God has taken our hands and together we walk on the path he has set before us. Knowing this, how can our hearts not be filled with hope?
Father,
We come before you acknowledging that we don't know what the future holds for us. While this is nothing new, somehow it seems more unsettling now. Help us run to you today as the day unfolds so that we know above all that we are loved by you and that you have taken our hand. Help us know with certainty that when you are leading the way we are on the right path. Moreover, Lord, in this assurance help us to shine your love and grace to all those around us. May you be glorified and honored in the things we think, do, and say. It's in Jesus' precious name we pray.
Amen