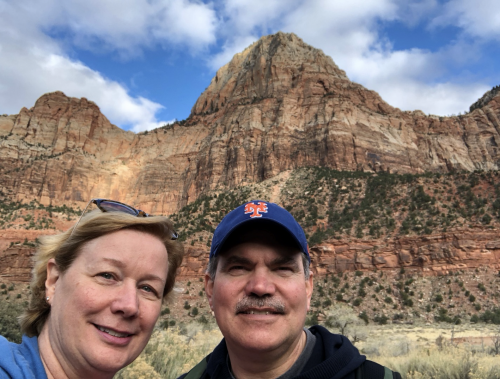 About the author: Larry and his wife Jackie are members at ZPC. They have two grown children, who are both married; one wonderful grandson; and one precious granddaughter who has already gone to be with Jesus. Larry is a past Elder at ZPC and a former chemist at Eli Lilly and Company. While their children were growing up Larry and Jackie were blessed to teach Sunday School classes at ZPC and served as coordinators for the Youth Inquirers. For many years now they have worked with different churches in Mexico to sponsor Vacation Bible School programs there. Larry is a long-time volunteer with the Kairos Prison Ministry while Jackie continues in her career at Eli Lilly.
"I praise you, for I am fearfully and wonderfully made.
Wonderful are your works; my soul knows it very well."
When I was a young child, I remember thinking that everyone was pretty much the same as me. For the most part, everyone I knew liked the same things I did, had similar trials and tribulations, believed the same things, and thought the same things about everything.
And then in 1968 when I was 9-years old and began my 4th grade year of Elementary School in Des Moines, IA everything began to change me. That was the year that the Des Moines Public Schools made a serious effort to desegregate their schools. I still distinctly remember that first day of school. I found myself sitting next to someone who was clearly not like me. I was scared. I did not know what to think or what to do.
Without question the young person sitting next to me was also scared and did not know what to think or do. I know that if I was in his place, I would have been terrified. At that time, I knew how I felt but I did not know how he felt or what he was thinking. I was still in the same school that I had been since kindergarten. Many of the things were still the same for me. But he was in a completely new environment. He was a long way from the neighborhood where he lived and a long way from the school he had been attending in the past. But my house was still only a few blocks away.
Fast forward to today, I can clearly see how God was using that time to prepare me for who I am now. For the past 10 years I have been blessed to serve with the Kairos Prison Ministry at the Pendleton Correctional Facility here in Central Indiana. Through the blessing of Kairos, I have met men from all walks of life and different belief systems. I have made many friends who are very different from me and who have life experiences very much different from what mine have been. I have laughed with them, cried with them, prayed with them, shared meals with them (including Kairos chocolate chip cookies), and shared the gospel of our Lord Jesus with them.
Today, I wish I could tell you that I became friends with that young person I met in the 4th grade. But I must confess that I did not. I still had so much to learn about myself, about God, and about how big the world that I lived in really was. I very much regret not reaching out to that young person and becoming his friend. Without a doubt, there was much he could have taught me. But in my time serving with Kairos, God has been teaching me a very important lesson and it is summed up in the motto "Listen, Listen, Love, Love."
Through Kairos I was invited to teach a class to some of the men who live in prison. Many of my brothers who volunteer with Kairos have also experienced the blessing of teaching a class there. In doing that, one quickly learns that as the teacher, by the grace of God, you become the one who is actually being taught. You learn that everyone has something to teach you, and everyone else in the class, from what they have learned. When that happens, you go from being the one doing the "teaching" to being a "facilitator" so that each person can learn from one another.
It was when I was facilitating a class entitled "Please Understand Me" that I began to see more clearly some of the lessons God had begun to teach me going back to that first day in my 4th grade class. The class uses tools to guide each person through introspective self-reflection which enables them to better understand how they perceive the world, how they make decisions, and enables them to assess how others do those same things. It was in that class that I began to understand just how much each person is truly fearfully and wonderfully made.
I have grown to realize that each and every person is gifted by God. Each and every person is different and special in their own way by God's design. I have grown to realize that every person bears his image and each and every person has been created and shaped by God through their life experiences to offer something unique and special to the world in which we live.
Psalm 19:1 tells us that "the heavens declare the glory of God, and the sky above proclaims his handiwork." That same amazing wonder and glory of God is also on display in the uniqueness of each and every person that we meet and interact with every day. We are all truly special in the eyes of God and have something of value to add to the world in which we live. May God help us all to learn this truth more deeply each and every day. I know that I still have much to learn.
Prayer:
Lord Jesus,
By your grace, please help us to be willing to "listen, listen, love, love" each and every person we meet and to see your glory reflected in them so that we may serve you well and to help you to grow your kingdom in our world today. By the power of your Holy Spirit may we continue to grow in our desire to see that each and every person we meet would be saved by your glorious gospel.
Amen.