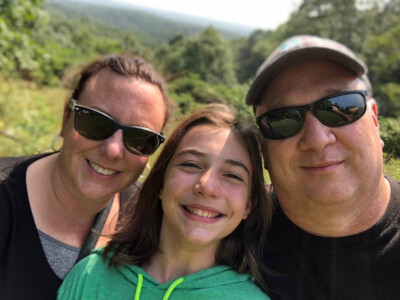 About this post: This blog post is part of a series of daily devotionals where we are exploring Jesus' life through the book of John. To sign up to receive text notification of these posts, text zpcdevo to 39970. We welcome your comments and questions each day.
About the author: Cara Grimes and her husband Shawn have been members of ZPC for 5 ½ years. We have a daughter, Olivia, who is 13 years old. Over 12 years ago, we took a bold step and moved to Indiana from Hilton Head Island, SC and have been blessed during our time here. One of those blessings is our church family at ZPC. We love our church!
The Christmas season is filled with beautiful decorations, joyful music, delicious food, presents, and time with loved ones. It can also be a time of stress to get everything perfectly done. Do you find yourself trying to make everything "social media" worthy? Many of us fall prey to the season of busyness!
Let us all take a moment to allow ourselves a time of pause to remember the Christmas season is about preparing our hearts to celebrate, once again, the wonderful and miraculous coming of our Lord and Savior, Jesus Christ.
Today we reflect on Luke 1: 39-56. This scripture happens right after Gabriel has visited Mary to tell her she has found favor with God and will conceive and give birth to the Son of the Most High. Gabriel also tells Mary that her relative, Elizabeth, is pregnant in her old age from God's blessing. Hearing this Mary answers with "I am the Lord's servant. May your word to me be fulfilled." Mary then hurries to attend to her relative Elizabeth. Mary with Jesus, and Elizabeth with John the Baptist.
Mary knew that being the bearer of the Christ child was going to come with dangers. One of the first dangers that she was going to face was the danger of ostracism. She was going to face, perhaps, the loss of her husband. Mary was facing the danger of being cut off from her immediate family. And yet her knowledge of Scripture enabled her to help believe this message that this angel had announced to her.
Read Mary's Song in Luke 1: 46-55.
"My soul glorifies the Lord
and my spirit rejoices in God my Savior,
for he has been mindful
of the humble state of his servant.
From now on all generations will call me blessed,
for the Mighty One has done great things for me—
holy is his name.
His mercy extends to those who fear him,
from generation to generation.
He has performed mighty deeds with his arm;
he has scattered those who are proud in their inmost thoughts.
He has brought down rulers from their thrones
but has lifted up the humble.
He has filled the hungry with good things
but has sent the rich away empty.
He has helped his servant Israel,
remembering to be merciful
to Abraham and his descendants forever,
just as he promised our ancestors."
Like Mary, we who bear Jesus in our lives are called to magnify him, to proclaim to all we meet that we have a great and merciful God, who keeps his promises, always provides, and is altogether trustworthy. And like Elizabeth, with gratitude and humility we can rejoice and champion the work of God in and through others.
The song Mary sung as she visited her cousin, Elizabeth, reveals the heart we should aim for as we consider what makes for true happiness during the holiday season. When we have an idea in our heads about how everything should go to make for that perfect day, these times of great celebration can be a time where we set ourselves up for disappointment. From the song of Mary, we are challenged to learn several lessons that help us put our longings and celebrations in right perspective.
This is also a great time to say "yes" to God's plan. Think about these two courageous women united by their yes to God's plan. It is intended to not only inspire admiration and devotion in us, but to teach us what it means to carry Jesus to the world.
If you feel yourself lacking in joy this season or just too tired from all the busyness, I encourage you to ask God to lead you to deeper channels of faith where you will find it. God wants to fellowship with you and to give you his peace and joy.
Prayer:
Dear Lord,
Help us to seek your plan and to glorify you especially during this Christmas season. Prepare our hearts to magnify you and to humble ourselves. Let us turn our thoughts to you and we ask for your guidance. May this Christmas season be a time of peace and may the love of Christ be with us all.
Amen