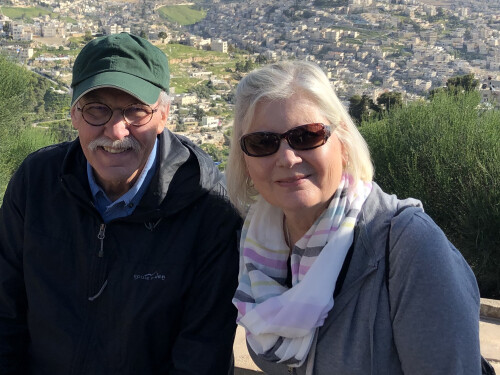 About this post: This blog post is part of a series of daily devotionals where we are exploring Jesus' life through the book of John. To sign up to receive text notification of these posts, text zpcdevo to 39970. We welcome your comments and questions each day.
About the author: Ann Gamble and her husband, Jim, have been members of the ZPC community for 32 years. They are fortunate to have their daughter Jessica, her husband Jeremiah, and their four children living in Indianapolis. Ann is a past Deacon, sings in the choir, and is involved in Home Groups, Soul Sisters Bible Study, Great Banquet and 2nd Half Adventurers.
Today's devotional, Chapter 19 of the book of John, focuses on the agonizing story of Jesus' crucifixion and burial. But within this chapter of Jesus' pain and darkness, verses 26-27 give us a picture of the loving son that Jesus is. When Jesus sees his mother standing there beside the disciple he loved (John), he said to her, 'Dear woman, here is your son.' And he said to this disciple, 'Here is your mother.' And from then on this disciple took her into his home. (NLT) Even in his brutal final moments, Jesus was concerned about someone caring for his mother and he took responsibility for making that happen. He was faithful to his family obligations and he calls us to do the same. Jesus entrusted his mother to John, a dear friend and one who stood by him at the cross, instead of one of his own brothers. Imagine how honored John must have felt to be Mary's adopted son!
One of Jesus' most well-known commandments tells us to Love each other (John 15:17 NLT). As we all know, this isn't always an easy task, especially with some of our family members. But as difficult as this may be, our families are gifts from God and we are called to love and care for them in all circumstances just as Jesus did. And, when God tells us to love one another, he is not just talking about our families. He wants us to show love, caring, and grace to everyone.
During this Christmas season (or anytime really), there are things we can do to show kindness to others that do not take a lot of time or money: visit a shut-in; write someone a note telling them you are thinking of them; invite someone to church for a holiday event or service; offer to babysit; deliver treats; be friendly to a store worker…the possibilities are endless.
Jesus came into our world to be a light. It is our calling and privilege as Christians to keep that light burning in any way we can. Examine your heart. Listen to Jesus. Go out and be a light for him.
PRAYER:
Heavenly Father,
Thank you for sending your son to earth to be a light in our dark world. Thank you that Jesus died on the cross for our sins, and by doing so, gave us eternal life. Help us to be a light for you always and especially in this season of Jesus' birth.
In your name we pray, Amen.