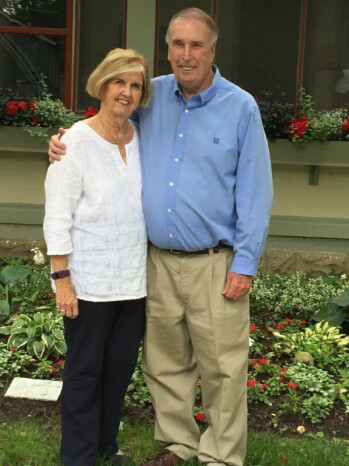 About this post: This blog post is part of a series of daily devotionals where we are exploring Jesus' life through the book of John. To sign up to receive text notification of these posts, text zpcdevo to 39970. We welcome your comments and questions each day.
About the author: At age 40, I accepted Jesus' gift to me and allowed him to be my Lord and Savior. At the time, I realized I had had control of my first 40 years and now God could have control of the next 40! This new journey of spiritual growth led my wife Jolene and me to go on staff with Campus Crusade for Christ (CRU) for 13 years working at their head quarters in Orlando, Florida. Prior to that I was a sales manager in New York City with Procter & Gamble, where we raised our 4 children, who then gave us our 7 Grandchildren.
As we await the Christmas Celebration of Jesus' birth during Advent season, I think of gifts. His name is Emanuel, which means "God is with us." Yes, he is with us, in us, 24/7. God gave us the gift of his son and the gift of salvation by us simply letting him be "our Lord and Savior." He also gave us the gift of prayer, being able to talk to him anytime, anywhere, and any place.
In today's devotional I would like to share some insights I have learned about the gift of prayer that Jesus gave us.
Read and ask what is Jesus saying to you in John 15:7-8?
"If you abide in Me, and My words abide in you, Ask whatever you wish and it shall be done for you. By this is My Father glorified that you bear much fruit and prove to be my disciple."
Isn't this a great promise! He wants us to have answered prayers and for us to bear much fruit for him, proving to be his disciple.
Now read and ask what is Jesus saying to you in Matthew 7:7-8?
"ASK and it shall be given to you: SEEK and you shall find: KNOCK and it shall be opened to you. For everyone who ASKS receives, and he who SEEKS finds, and to him who KNOCKS it shall be opened."
So Jesus is saying ASK, notch it up by SEEKING and, even stronger yet, start KNOCKING on God's door for the answer!
Now read Matthew 7:9-11. It in effect says, we know how to give good gifts to our children.
"How much more will your Father, who is in heaven, give what is good to those who ASK HIM."
Yes, God wants to give us the GIFT of answered prayers.
In a book by Hope MacDonald, Discovering How to Pray, she states: "I have found a little tool I would like to pass on to you. It has changed my whole prayer life. Picture the prayer as already answered!!" She refers to what Jesus said in Mark 11:23-24, "Truly I say to you, whoever (me and you) says to this mountain (our problems), 'Be taken up and cast into the sea, and does NOT DOUBT in his heart BUT BELIEVES that what he says is going to happen, it shall BE GRANTED YOU." Seems impossible but Jesus said it works!
Could these acronyms about prayer help you as they do me? A B C = Ask, Believe, Cry out to God. (Read Luke 18:1-8) and D I P = Desire, Intensity, Persistence..how much do you really want your prayers to be answered? God hears your heart.
Would you consider some spiritual resolutions/goals for 2020 to increase your prayer effectiveness, such as "P T A" throughout your days...Praying and Thanking God for the many things he allows and puts into you daily life to walk with him. Then, Asking him for help in situations throughout your day. Yes, God wants us to maximize his gift of prayer to us!