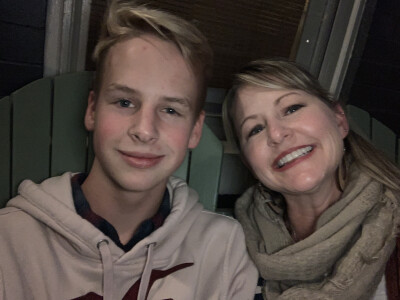 About this post: This blog post is part of a series of daily devotionals where we are exploring Jesus' life through the book of John. To sign up to receive text notification of these posts, text zpcdevo to 39970. We welcome your comments and questions each day.
About the author: My name is Sally Bias. I have been set apart to serve God at ZPC as the director of communications. He has also called me to be a mom to daughters Carly and Celia, who are at IU, and to son Carter, who is a freshman in high school. Carter and I are both getting used to him being an only child 80% of the time. I am left-handed, have eclectic music tastes, and am a fan of sour cream and the Oxford comma.
As we've been going through the book of John this Advent season, it has been interesting to consider Christmas in light of the events leading up to Easter. Today's scripture opens with Jesus reflecting on his responsibility to God and to humankind because he knows he is approaching his death.
Just before the Passover Feast, Jesus knew that the time had come to leave this world to go to the Father. Having loved his dear companions, he continued to love them right to the end. The evening meal was in progress, and the devil had already prompted Judas, the son of Simon Iscariot, to betray Jesus. Jesus knew that the Father had put all things under his power, and that he had come from God and was returning to God; so he got up from the meal, took off his outer clothing, and wrapped a towel around his waist. After that, he poured water into a basin and began to wash his disciples' feet, drying them with the towel that was wrapped around him.
John 13:1-5, Msg
In this passage, I see the love Jesus has for his disciples in a very practical way…the act of washing their feet. As Jesus is getting started, he and Peter dialogue about why Jesus is washing their feet. Peter always seems to be trying so hard, but, as he often does, misunderstands Jesus' intentions. He first tells Jesus that he will never allow Jesus to wash his feet. Then quickly moves on to asking Jesus to wash not only his feet, but his hands and head as well. In response to Peter's request, Jesus tells Peter that he is "concerned with holiness, not hygiene" (John 13:10, Msg). Eugene Peterson's translation of this verse made me laugh and also caused me to stop and think. To me, holiness means something set apart and hygiene means cleanliness or appearance of the physical body.
Of course Jesus, who has come straight from God and is the epitome of holiness, would be more concerned about our souls than our soles (see what I did there?) And as I began to consider further, I realized that God shows us throughout the Bible that he too is more concerned with holiness than hygiene.
Abraham and his wife Sarah were a couple set apart by God. He promised to make Abraham the father of a great nation, but to human eyes they appeared to be an old, childless couple.
David was a man set apart by God to serve as king. He was described as a man after God's own heart, but to human eyes he was a murderer and adulterer.
Mary was a woman set apart by God to carry his one and only son, but to human eyes she appeared to be pregnant and not married.
Jesus came to Earth as a baby, set apart by God from the beginning to be the savior of the world. Yet to human eyes he appeared to be just another baby born in a stable into a messy and broken world.
In washing his disciples' feet, it might appear that Jesus is concerned with their cleanliness, when, in fact, he is actually setting them apart for a great, but simple mission. He says to them:
"Let me give you a new command: Love one another. In the same way I loved you, you love one another. This is how everyone will recognize that you are my disciples—when they see the love you have for each other."
John 13:34-35, Msg
This season of waiting is a great time to ponder what God has set you apart for. Are you living into his legacy of holiness? Or are you more caught up in the hygiene of day-to-day living?
Prayer:
Dear Jesus,
You are holy and worthy of all our praise. Thank you for loving us. Help us to love one another as you have loved us.
Amen.