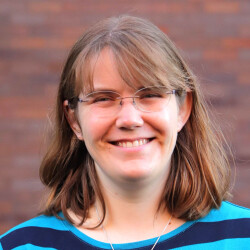 About this post: This blog post is part of a series of daily devotionals where we are exploring Jesus' life through the book of John. To sign up to receive text notification of these posts, text zpcdevo to 39970. We welcome your comments and questions each day.
About the author: Amanda Stricker has enjoyed being a part of the ZPC community since being dropped off at the nursery at the age of two up through her current service as a ZPC Elder. You might find her Sunday mornings working as a tech assistant when she is not partaking in ZPC's breakfast tea options in the Gathering Space. She has been teaching grades 5-12 for 11 years at various schools throughout Indianapolis and is currently employed as a Social Studies and English teacher for her second year at Eman Schools which is a private Islamic school in Fishers. She feels quite blessed to have an opportunity to get to know her Muslim neighbors while also indulging her passion for teaching the humanities.
I've really relished the chance to study the book of John this Advent season. While reading chapters 1-9, the English teacher in me just loved all the reoccurring symbolism and themes found throughout these pages, including: light in the darkness, testifying and witnessing to God's glory revealed, caring for the hearts and bodies of those in need, the errors of human judgement vs the absolute truth of divine judgment, and, of course, blindness being banished for those with the "eyes to see" contrasted with people who willfully clench their eyes shut and cling to their own darkness, which is what happens in John 9.
The book of John chronicles what was seen and heard of Jesus's work here on earth, and people responded again and again in one of two ways:
Some offered obedience, testimonials, and loving devotion, as is the case of the blind beggar. He washed the mud from his eyes, bravely proclaimed Jesus's Godly origin to the Pharisees (even when doing so got him kicked out of the Jewish worshiping community), confessed his desire to be Jesus' disciple, and worshipped Jesus as the Son of Man.
Others, like the Pharisees, consistently refused to believe the evidence of their own eyes and stubbornly interrogated people again and again until they had the excuses needed to stay safe in their own self-righteous worldview. These "righteous" people blindly refused to hear the truth in the words of the witnesses, to hear the truth in the words of Jesus himself, or see the truth in the miracles of God revealed to them. A man, blind from birth, could now see! No prophet, priest, or apostle from Genesis to John gave sight to the blind. It is one of the signs reserved for the Messiah in Judaic texts, straight out of Isaiah 35:5 "Then [in the time of the Messiah] the eyes of the blind will be opened." How utterly foolish of these "disciples of Moses" (John 9:28), these proud experts on Jewish law to ignore all of the signs in the holy texts pointing directly to Jesus, for as Jesus said to them, "If you really believed Moses, you would believe me, because he wrote about me" (John 5:46).
Yet we must not fall into the trap of condemning the Pharisees or shaking our heads at the willfully blind. I too am often spiritually blind, judgmental to the point of ignoring evidence in order to keep my own worldview safe and without discomforting disorder. I remember once being very annoyed with a student who CONSISTENTLY was late to class and didn't turn in homework. She even had the audacity to sleep through the lessons I had poured my heart into in order to give HER the tools she needed to graduate high school and be successful in life. Anytime I tried to talk to her (or wake her up), she would snap or cuss at me, and often stormed off. However, one day, we were having a cordial conversation (a rarity), and she mentioned that her house was shot up in a drive-by the night before. Apparently, all semester she and her family were struggling with on and off again homelessness and living in an area riddled with gang violence. My eyes were opened, and I had a quick attitude adjustment. I didn't change the standards she needed to pass my class, but I had compassion for her and met her where she was in her need, making sure she had the tools, opportunities, and support needed to meet my high standards.
Jesus meets us where we are and invites us to "come and see" (John 1:39 and John 4:29), and in seeing, to be transformed. There are many glorious things we are called upon to witness, and we must be very careful to not arrogantly claim we can see all truths and thus be guilty of true spiritual blindness and worthy of condemnation (John 9:41). Like the blind man given sight, we need to never judge what is in the hearts of others, but only proclaim to the saving grace of Jesus Christ in our lives. I know not who will be declared a sinner in God's eyes, for judgment is the Lord's; I know only this: I was blind, and now I can see!
Activity options:
Skim through biblical verses about sight and think about all God has to say about the ability to see and what he might be calling you to witness. http://icstc.com/bg/bv.html
Listen to Jordan Feliz's "Witness" https://www.youtube.com/watch?v=wgD92xLlNGs and discuss how it connects to themes you've read in John so far.
If you are not physically blind, thank God for the precious opportunity to gaze upon his creation in appreciation, and go see all the pretty lights strung up this season in celebration of his coming to earth to rescue us form spiritual blindness!
Prayer:
Most Holy God,
Thank you for opening our eyes and hearts to your glory. Thank you, Jesus, for coming to earth to be our light and reveal to us the depth of God's love. May we always respond to your grace and love with obedience and devotion. Send your holy spirit to guard us and keep us from judgmental pride and spiritual blindness. Help us to see the needs of those around us and to immediately respond with love, care, and understanding no matter what circumstances, cultural taboos, or ingrained prejudices pressure us to stand idly by in the face of suffering. Fill us with your Spirit so that we may boldly go and be a witness to your work in our lives.
Amen.